| | |
| --- | --- |
| Ordering | |
Cans
We would be delighted to manufacturer a can/cans for you and we look forward to receiving your further instructions. We would mention that all our hand-made copper cans carry the craftsman's initials and year of manufacture.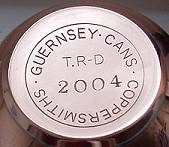 The crafted hand-made copper Guernsey Milk Cans listed below are all tin-lined and can be used for containing Milk, Cream or other Liquids. They are polished to a lustrous finish and the history of Guernsey cans is provided with each can sold. The Tankards/Measures are also tin-lined. Machine-made cans are also available.
Bracelets and Bangles
See Payment Methods and Contact Adresses below. The prices of Bracelets and Bangles exclude packaging and postage. Postal charges are subject to current UK rates. The cost of delivery can be advised on request. When ordering, please state the item code. A few items are available in larger sizes; where available, this should be stated if the larger size is required.
---
MILK CAN PRICES
(Note: All cans are supplied without the "Guernsey Crest" (see pictures on Home page). If required, a crest can be applied to any hand-made copper can or copper machine-made can for £3.00.
All cans and tankards prices exclude packing and postage (plus a documentation charge for destinations outside the UK) which will be charged additionally. On ordering, we will be able to advise you of the packing and postage charge (and documentation charge if appropriate) which will vary and is dependent on quantity, size of can/tankard and its weight, and final world-wide destination. Cans and tankards to be sent to UK destinations only will attract UK VAT which will be charged additionally at the current rate.
Copper Cans (hand made by craftsman)
Copper Cans (machine-made without tin lining)
Copper Tankards/Measures (hand made by craftsman)
---
TO ORDER :
Please contact us (see Addresses/Numbers below) initially with your requirements and stating your preferred method of payment (see below). We will then confirm by email the price, postage, delivery times and method of payment.
Please allow 21 days for delivery on all individual 'Pot' Sizes. The delivery of smaller sized cans may be quicker.
---
PRIVACY STATEMENT
Guernsey Cans (Coppersmiths), whose full contact details are shown below, only retains details of a client's order, payment details, and associated correspondence (electronic or otherwise) and then only for as long as required under accounting legislation. Such data is used for no other purpose. Our website does not make use of cookies nor do we collect personal data through IP addresses or by other means. Personal information obtained as a result of the placing of an order and any associated correspondence (electronic or otherwise) is treated as confidential and will never be disclosed to a third party by Guernsey Cans (Coppersmiths) unless demanded by Law.
---
PAYMENT METHODS:
Bank to Bank (BACS) payments
Customers will need to arrange this through their own bank. Please phone or email us for our bank details (UK and International ( IBAN )). All charges for such payments are to be paid by the customer.
Credit/Debit Card payments
Please phone or email us (see contact details below) with your card details to include: name on card, 16-digit card number, date of expiry, 3-digit security number (on reverse of card). Please also provide your full address when ordering.
The transaction receipt will be despatched with your ordered goods (see our Privacy Statement above).
---
CONTACT US:
Shop at Saumarez Manor:
UK:
International:
.01481-233339
+44 1481 233339
(for sales, orders and enquiries)
Mobile/Cell:
UK:
International:
07781 129517
+44 7781 129517
(for sales, orders and enquiries)
Office:
UK:
International:
.01481-256327
+44 1481 256327
(for accounts & after hours sales & enquiries)

Email:

-

info@guernseycans.co.uk

Post:

-

Guernsey Cans (Coppersmiths)
Charnwood
Rue du Preel
Catel
Guernsey
GY5 7DP
(British) Channel Islands
Shop Opening Hours:
Summer (Easter to 30th September)
-
- Monday to Friday: 10.00 am to 5.00 pm
- Saturday: 9.30 am to 12.00 Noon
- Sunday: 12.00 Noon to 5.00 pm
Winter (1st October to Easter)
-
- Monday to Friday10.00 am to 4.00 pm
- Saturday & Sunday - CLOSED
---